Sarah Houcnin -Senior – Defender – Auburn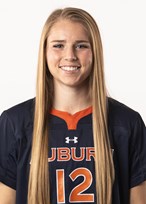 Houchin who is from Coppell, Texas was a key part of an Auburn defense that shutout Mississippi 1-0 at home and Georgia 1-0 in Athens.
Auburn improves to 2-0-1 and is the last unbeaten team in the SEC.
It was a team effort for an Auburn squad that played 19 players in both contests.
In regard to Houchin, Auburn head coach Karen Hoppa stated, "She really is the leader of our team as a whole and certainly our defense. Hoppa added, "She was the calm in the storm and led our team to those two victories."
Auburn will put their undefeated record on the line when they host Kentucky on Saturday, October 24.
---
Picture from Auburn Athletics