Kimarni Smith – Senior – Forward – Clemson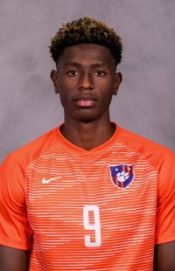 Smith played a key role in two very impressive Tiger wins.
In Clemson's 2-1 win over Wake Forest he utilized his quickness and touch on the ball to score from inside the box after receiving a cross from teammate Grayson Barber. He also made a nice move and pass in tight quarters to set up teammate Luis Felipe Fernandez-Salvador's game-winning goal.
In Clemson's 2-1 come from behind win in overtime against Duke he contributed the helper on teammate James Brighton's game-winning goal.
Clemson is now 4-1-0 with a 2-1-0 mark in ACC play. The Tigers now travel to Raleigh to face North Carolina State on Friday, October 23.
---
Pictures from Clemson Athletics