Charlie Sharp – Senior – Forward – Western Michigan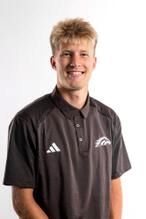 Sharp had another impressive multi-goal week during which he scored three times to lead Western Michigan past Green Bay 3-0 in the first round of the NCAA Tournament. He followed that up with another impact game during which he scored the game-winning goal in overtime in the Bronco's 2-1 win over Duke in Durham in the second round. Teammate Dylan Sing contributed the first goal in the win over Duke.
Western Michigan head coach Chad Wiseman summed things up when he stated, Charlie and Dylan were on point once again today. They each found a goal, but most importantly, they dictated how the game was going to be played."
Western Michigan improves to 17-1-3 and advances to the Sweet Sixteen with a road trip to South Bend on Sunday to face Notre Dame.
---
Picture from Western Michigan Athletics