Croix Bethune – Senior – Midfielder – USC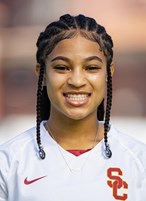 Bethune is a playmaker and difference maker for the Trojans. This week she assisted on the goals scored by teammates Simi Awujo and Simone Jackson and contributed a goal with Jackson providing the helper in USC's 5-1 win over Oregon State in Corvallis. She also scored twice and assisted on the goal scored by Kayla Colbert in the Trojan's 4-0 win over Oregon in Eugene. Bethune has five goals and seven assists on the season.
USC has momentum. They are unbeaten in their last eight games to improve to 7-1-1 with a 3-0-0 mark in Pac-12 play. They host Pac-12 foes Arizona on Thursday and Arizona State on Sunday.
---
Picture from USC Athletics