Morgan Cross – Junior – Midfielder – South Alabama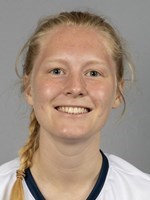 Cross came though in the clutch for South Alabama scoring twice with a little over five minutes remaining in regulation to propel the Jaguars to a 2-1 come from behind win over Arkansas State in the championship game of the Sun Belt Conference Tournament.
South Alabama played their way into the championship match by advancing past Little Rock in PKs after the contest was tied 2-2 at the end of 110 minutes of play and defeating Louisiana 4-1.
The Jaguars, who have won seven of the last eight Sun Belt Tournament Championships, finish the fall season with a 10-3-1 record.