Allison Lowrey – Junior – Forward – Rutgers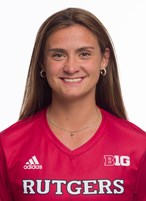 Lowrey scored out of a quick counter attack set up by a combination of passes from Riley Tiernan to Sara Brocious to give the Scarlet Knights the big play they needed to top New Mexico 1-0 at the UMN Soccer Complex in Albuquerque. She followed that up with a goal and two assists to play a key role in Rutgers' 5-1 win over UNLV. The five goals were the most that the Scarlet Knights had scored in a contest away from home since 2015.
Rutgers begins the season with two good on the road wins. The Scarlet Knights travel to face Providence on Thursday and then return home to host Buffalo on Sunday.
---
Picture from Rutgers Athletics