Logan Farrington – Senior – Forward – Oregon State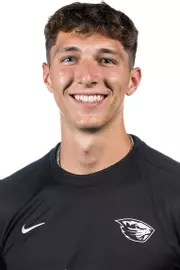 Farrington was a difference maker for Oregon State in two tough on the road Pac-12 contests. He contributed the assist on the goal scored by junior midfielder Dante Williams and netted the equalizer from ten yards out with a double assist from Dante and Fran Cortijo to enable Oregon State to rally and come from two goals down to tie California 2-2 in Berkeley. He also scored twice in Oregon State's subsequent huge 2-1 win over previously number one ranked Stanford.
Farrington has seven goals and two assists in seven contests.
Oregon State begins Pac-12 play with a tie and big on the road win to gain momentum. The Beavers are 4-2-1 overall with a 1-0-1 mark in conference play.
Oregon State returns to the pitch on Sunday when they host non-conference foe Loyola Marymount before resuming Pac-12 play with a tough match on the road the following Saturday with Washington.
---
Picture from Oregon State Athletics