Eno NTo – Junior – Forward – Notre Dame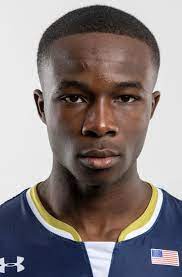 Nto had a banner week utilizing his quickness and touch on the ball to score four times to lead the Irish past a competitive Pittsburgh team 6-0 in an Atlantic Coast Conference contest. Midfielder Bryce Boneau contributed an assist on three of Nto's goals. Nto has ten goals and one assist on the season.
Notre Dame concludes regular season play with an 11-0-5 overall record and 6-0-2 mark in conference play. The Irish secure the number one seed in the ACC Tournament and become the first team since 2017 to not have a loss in regular season ACC play.
Notre Dame will return to the pitch on Sunday in the quarterfinals of the ACC Tournament against the winner of the first round contest on Wednesday between Pittsburgh and Louisville.
---
Picture from Notre Dame Athletics