Daniel Russo – Junior – Forward – Notre Dame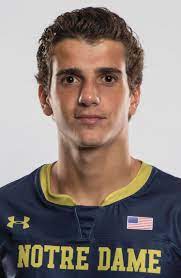 Russo was a difference maker for the Irish this week. He was at the heart of a resilient Notre Dame effort this week with a three goal performance that enabled the Irish to twice come back from a goal down to top a determined Michigan team 3-2. Russo also came through in the clutch for Notre Dame when he scored the equalizer after receiving a cross from Eno Nito in a subsequent 1-1 hard fought draw on the road with ACC foe Pittsburgh.
Russo has six goals and four assists on the season for a Notre Dame team that completed regular season play with an 8-6-2 overall record and 3-4-1 mark in conference play.
The Irish will begin play in the ACC Tournament on Wednesday when they travel to face Clemson in what shapes up to be a very competitive first round matchup.
---
Picture from Notre Dame Athletics