Clara Robbins – Redshirt Senior – Midfielder – Florida State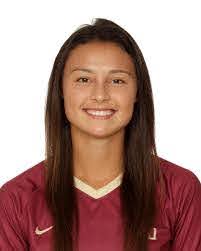 Robbins was a force on the offensive side of the ball for the Seminoles in the Atlantic Coast Conference Tournament at WakeMed Soccer Park in Cary, North Carolina.
In the quarterfinals Robbins skillfully controlled and then drove a deflection into the right side of the goal from the top of the box to help power FSU past Notre Dame 2-0.
In the semifinals she contributed a helper on teammate Kristina Lynch's goal in FSU's larger than expected 4-0 win over Duke.
She capped off a solid tournament with two impressive goals in the first six minutes of play to lead an explosive Florida State team to a 3-2 win over North Carolina in the championship match.
Robbins was named the Most Valuable Player of the 2020 ACC Tournament.
Florida State concluded the fall season with a perfect 11-0-0 record during which they scored a total of 34 goals and only allowed 6.