This high-profile contest took place on the biggest stage in Atlantic Coast Conference play. The opportunity to play in a contest like this is among the reasons that talented players are attracted to both programs.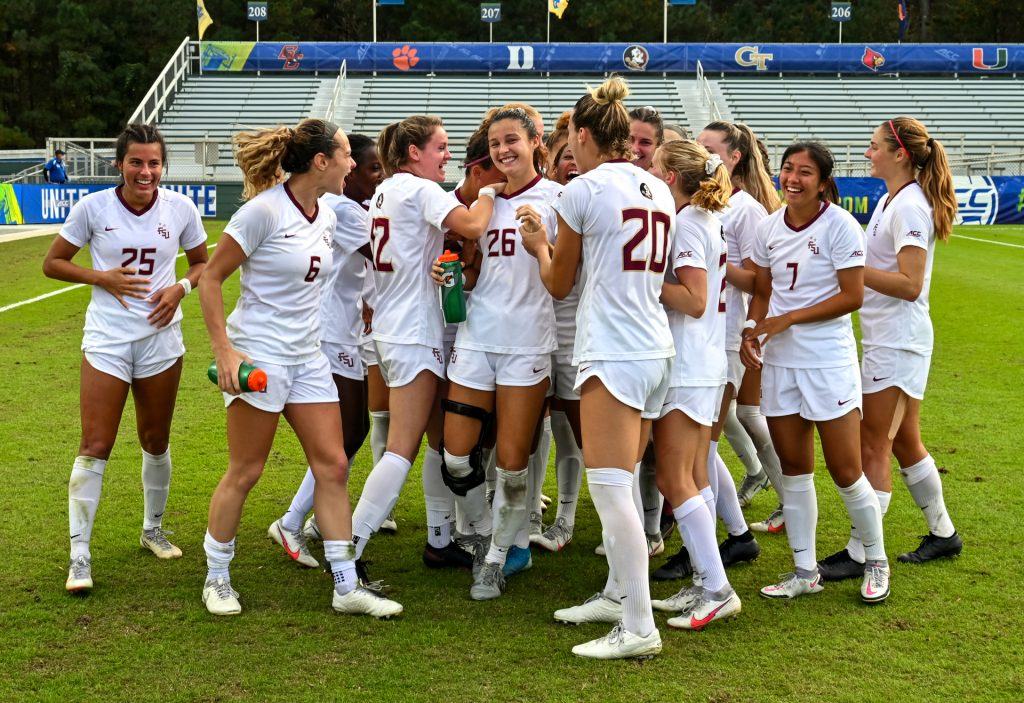 It was a classic push comes to shove something has to give contest between the two top teams in the Atlantic Coast Conference as well as in the county. There was never any doubt that both teams would apply pressure right out of the game.
Something did give and much earlier in the contest than was expected.
FSU came into the contest with a perfect 10-0-0 record and a number two national ranking from the United Soccer Coaches while North Carolina came into the match with an 11-0-0 record and the number one ranking.
Both teams are talented on both sides of the ball with no apparent weaknesses but the number one question heading into the game was whether or not FSU's juggernaut like offense that had produced a total of 31 goals would be able to breakthrough an unassailable North Carolina defense that had allowed a total of only three goals and never more than a single goal in a contest all year. It didn't take long to get an answer.
The crowd at WakeMed Soccer Park in Cary, North Carolina had barely settled into their seats when in the first minute of the match redshirt senior midfielder Clara Robbins electrified the Noles and the Seminole faithful in attendance when she scored out of a corner kick with a double assist from sophomore forward Leilanni Nesbeth and redshirt senior forward Kristen McFarland.
Plenty of time existed for the Tar Heels to recover and get back into it but North Carolina found themselves in full chase mode just four minutes later when Robbins blasted a shot into the right side of the frame from just outside the box with an assist from Nesbeth to give FSU a 2-0 advantage.
The remainder of the first half remained up-tempo with both teams creating several opportunities to score out of set pieces but neither was able to breakthrough. The teams went into intermission with the Noles holding what appeared to be a very comfortable 2-0 advantage and UNC facing a rare halftime deficient.
The Tar Heels came out of the locker room with hopes of duplicating a come from behind win like North Carolina achieved on the gridiron on Saturday against Wake Forest. However their chances of doing that dimmed significantly when Nesbeth scored from close range a little more than a minute into the second half to extend FSU's lead to 3-0 off a give and go with Robbins.
To North Carolina's credit they continued to attack and were rewarded with a penalty kick in the 58th minute of play due to a handball in the box.  Junior forward Rachel Jones converted the pk to pull one back and narrow the gap to 3-1.  The Tar Heels closed the gap to a respectable 3-2 when junior midfielder Brianna Pinto scored in the 89th minute but it was too little too late to alter the outcome of the contest.    
Freshman Cristina Roque had two saves in goal for Florida State while junior Claudia Dickey had a three save day for North Carolina.
FSU under the direction of head coach Mark Krikorian took control of the match early on and never really relinquished it to secure a well deserved win and complete a banner fall season with an 11-0-0 record.
It was a disappointing loss for the Tar Heels. Nonetheless they completed another highly successful season under the guidance of head coach Anson Dorrance with an 11-1-0 record.
The contest concluded an unprecedented fall season that despite the difficulties showcased an extremely talented slate of teams in the Atlantic Coast Conference.
---

Pictures from Florida State Athletics