college soccer news provides a look at a glace of the results in mens college soccer on opening day.
Bradley 3 – Eastern Illinois 2 – This unique season opener took place inside the 125,000 square foot Slugger Dome at the Louisville Slugger Sports Complex in Peoria, Illinois.
Both sides attacked from the get-go with Bradley having a nine to five advantage in shots during the first half but neither side was able to find the back of the net.
Things changed in the second half. Bradley sophomore defender Rasmus Smidtslund broke the ice in the 69th minute when he converted a header off a rebound coming out of a corner kick to give the Braves a 1-0 advantage. Redshirt sophomore Malte Winkler made it a 2-0 two minutes later when he scored from inside the six-yard box after receiving a cross from teammate Saadiq Mohammed.
Eastern Illinois got new life when Julian Smith sent a blast into the back of the net from 30 yards out in the 70th minute to close the gap to 2-1. Freshman midfielder Patrick Fishburne then netted what proved to be the game-winning goal when he scored from close range in the 80th to give Bradley a 3-1 lead.
Eastern Illinois continued to battle with Shady Omar getting a good result when he converted a header in the 83rd minute that was set up by a cross from Reed Axthelm to make it a 3-2 contest and conclude the scoring for the evening.
Bradley under veteran head coach Jim DeRose improves to 1-0-0 while Eastern Illinois opens with a 0-1-0 record.
Bradley will travel to Springfield to face a Missouri State squad that is ranked as the number ten team in the country by College Soccer News on Sunday, February 14.
Eastern Illinois under new head coach Ronnie Bouemboue will seek to get in the win column when they travel to Macomb to face Western Illinois on Friday, February 12.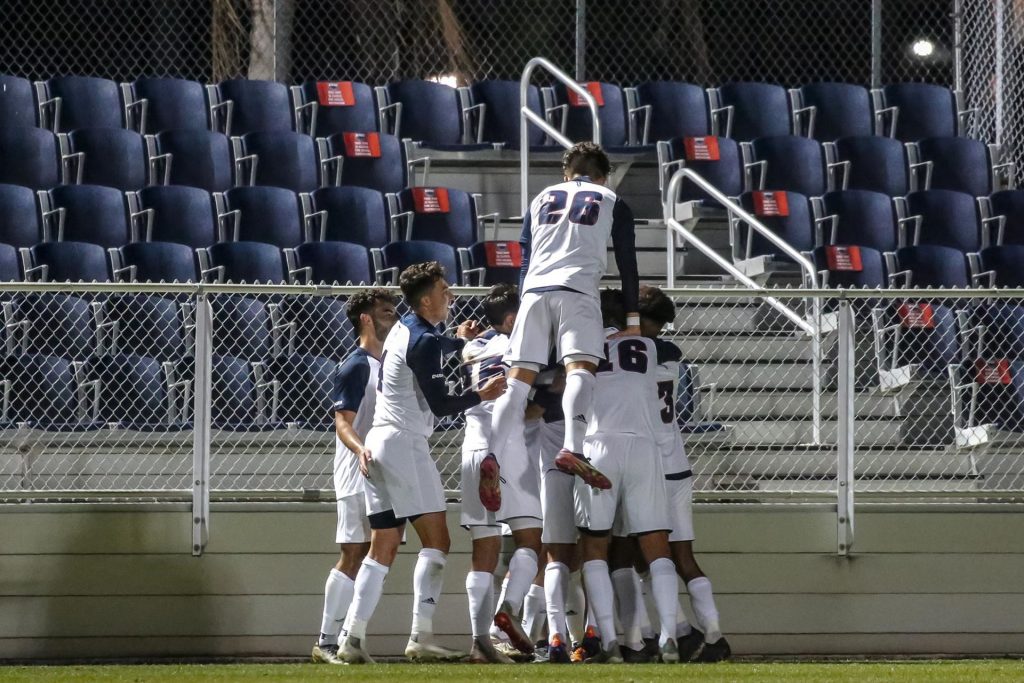 FAU 1 – North Florida 0 – Defense ruled, as is often the case in the early part of the season, in this season opener that took place in Boca Raton, Florida.
Junior midfielder Alonso Coello Camarero who hails from Madrid, Spain scored the lone goal of the evening for FAU out of a free kick from outside the box in the 31st minute of play.
A stout FAU defense anchored in goal by junior Neil Strauber limited North Florida to a total of six shots with only two being on goal.
North Florida had a 10 to 4 edge in corner kicks but they were unable to take advantage of it. Carlos Melendez had a four save evening in goal for North Florida.
FAU will seek to pick up their second win of the young spring season when they travel to face Jacksonville on Friday, February 19. Things don't get any easier for North Florida who will travel to Columbia, South Carolina to tangle with the University of South Carolina on Sunday, February 7.
Seattle 3 – Gonzaga 2 (ot) – This season opener match in Seattle required extra time to determine a winner and was a little closer contest that anticipated. The two sides had squared off back on January 23 in an exhibition match that Seattle won 3-1.
Gonzaga started the contest on the front foot when junior defender Kigeya Demetrius scored just three minutes into the match. Seattle tied it at 1-1 when midfielder Jesse Ortiz drove a header into the back of the net in the 21st minute after receiving a nice cross from forward James Morris. The teams went into halftime with the scored knotted at 1-1.
Seattle took a 2-1 lead when Ortiz scored his second goal of the evening in the 51st minute of play. The goal was set up by an interception and pass from forward Noe Meza and a nice move off the dribble by Ortiz to create the space he needed to send a left-footed shot into the back of the net. At the time it felt like that goal might prove to be the game-winner but sophomore defender Cole Rovegno, with an assist from freshman forward Wylie Trujillo, proved otherwise and gave the Zags new life when he responded with a goal for a gutsy Gonzaga team in the 82nd minute that tied the contest at 2-2.
The game remained tied at the end of regulation. There was no score during the first overtime period but freshman midfielder Munier Hussen came up big for Seattle in the second when he alertly one-timed a rebound out of a corner kick into the net in the 107th minute of play to give Seattle the edge they needed to secure a very hard fought 3-2 win.
Johan Garibay had five saves in goal for Gonzaga. Akili Kasim had a seven save evening in goal for Seattle.
Seattle will face UTRGV in a WAC contest on Saturday, February 6. Gonzaga returns to Seattle on Sunday, February 7 to face Washington out of the Pac-12 in their next match.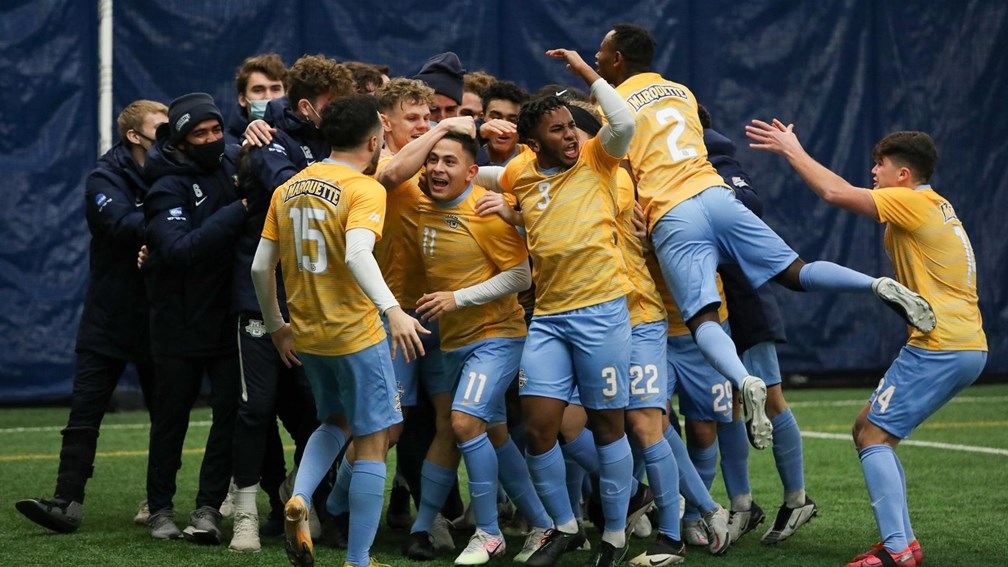 Marquette 1 – Loyola Chicago 0 (ot) – Both teams were a little rusty as would be expected in any season opener but particularly this year. Nonetheless, it was a good momentum building win for Marquette over a very competitive Loyola Chicago squad.
Freshman Beto Soto utilized his left-foot to slot a shot into the lower left corner of the frame after receiving a well-played through ball from teammate sophomore Christian Marquez to give Marquette the edge they needed to record the win.
Loyola-Chicago had a 13 to 7 advantage in shots but Marquette prevailed in the one statistic that really matters.
Simon Jillson, Marcel Kampman and Alex Grow all appeared in goal for Loyola Chicago. Chandler Hallwood and Jackson Weyan appeared in goal for Marquette. Both coaches utilized the season opener as an opportunity to provide a lot of players with playing time.
Marquette will seek to keep the momentum going when they host Northern Illinois on Sunday, February 7. Loyola Chicago returns to the pitch on Sunday, February 17 with a contest against Northern Illinois.
---
Oregon State 6 – Eastern Oregon 0 – It was a good season opening exhibition contest for Oregon State. Beaver head coach Terry Boss summed things up when he stated, "It was amazing to see the smiles on the guys' faces as they got to compete again."
This one was all Oregon State with Mouhameth Thiam contributing two goals and Sofiane Djeffal converting a penalty kick to give the Beavers a 3-0 advantage at intermission. Djeffal scored again in the second half along with Tyrone Mondi and Gloire Amanda. Amanda also contributed three assists.
Oregon State had a 37-shot evening while Eastern Oregon had none.
Things get a little tougher for Oregon State when they travel to Seattle on Sunday, February 20 to face fellow Pac-12 member Washington. Washington is ranked as the number eight team in the country by College Soccer News.
---
Saint Louis 3 – UMKC 0 – This season opener took place at Hermann Stadium in Saint Louis.
Forward Stefan Stojanovic converted a penalty kick that resulted from a hand ball in the box to give the Billikens a 1-0 edge in the 15th minute of play.
Freshman forward Patrick Weah added the insurance goal for Saint Louis in the 53rd minute and freshman forward Mason Leeth put the icing on the cake when he scored in the 88th minute to give Saint Louis a good season opening win.
Saint Louis will host Missouri State on Sunday, February 7 in a contest that looks to be a good early season test of just how competitive the Billikens will be.  (This contest has been cancelled due to projected inclement weather) 
UMKC under the direction of first year head coach Ryan Pore will seek to regroup and get into the win column when they travel to face a good Central Arkansas team on Sunday, February 7.
---
Pictures from Bradley, FAU, Gonzaga, Marquette Athletics