Ashleigh Williams – Junior – Foward – Texas Tech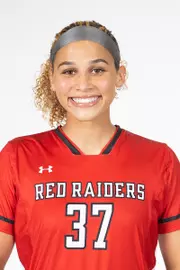 Williams is among the reasons why Texas Tech is off to their best ever start in program history with a 9-0-2 overall record and 3-0-0 mark in Big 12 play. This week she scored the Red Raiders first goal and Hannah Anderson headed in the game-winning goal as time expired to enable Texas Tech to top Texas 2-1 in Big 12 Conference play. Williams also scored twice to lead Texas Tech in a 2-0 win over Big 12 foe Baylor in Waco.
Williams has 12 goals to date including four game winners.
The Red Raiders resume Big 12 play with contests at home against Oklahoma on Thursday and Cincinnati on Sunday.
---
Picture from Texas Tech Athletics