Ryan Carmichael – Senior – Forward – Hofstra University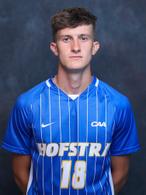 Carmichael is a playmaker with the ability to score in multiples. This week he had a goal and an assist in Hofstra's 3-0 win over LIU. He followed that up with a two-goal evening in the Pride's 2-1 win over William and Mary in a Colonial Athletic Association contest. Carmichael has seven goals and four assists on the season.
Hofstra is 6-1-2 overall with a 1-0-2 mark in CAA play. The Pride returns to the pitch on Tuesday when they host Binghamton in a non-conference matchup. They then resume conference play with a game on the road on Saturday against Elon.
---
Picture from Hofstra University Athletics