The Atlantic Coast Conference men's soccer tournament gets underway on Sunday, November 15 with the top four seeds in the north and south divisions squaring off at campus sites.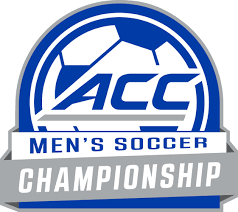 Virginia Tech (#2 North – 3-1-2) vs Clemson (#3 South – 5-2-1) – This is hands down the most challenging and interesting quarterfinal matchup.
Time flies by. It is hard to believe that this is Mike Brizendine's 12th season as the head coach at Virginia Tech and Mike Noonan's 11th season as the head coach at Clemson. Both inherited a challenging situation and both in their own way have taken their programs to new heights.
Virginia Tech comes into this contest off impressive wins on the road over Louisville 2-1, Notre Dame 1-0 and rival Virginia 1-0. Clemson comes into it off a 3-3 tie at home against North Carolina in which they allowed the Tar Heels to come from a two-goal deficit and a 2-0 loss on the road to Wake Forest in which the effort was there but they never seemed to get in gear.
The shorter season, the unprecedented conditions, and the pretty much conference only schedule has impacted the ability of teams at times to settle into and maintain a rhythm and find the right balance between offensive pressure and defensive stability. That has contributed to a lack of consistency and the inability of teams across the board to put together two solid halves of play.
This one looks to be a game of momentum with the potential for ebbs and flows in the contest. The side that wins the battle of the middle third should prevail. Clemson junior Luis Felipe Fernandez-Salvador and Virginia Tech sophomore Daniel Pereira are among those who will play a key role in the battle for possession in the middle third.
Senior Kimarni Smith, junior Grayson Barber and sophomore James Brighton will power the Clemson attack. Seniors Kristo Strickler and Jacob Labovitz provide offensive firepower for Virginia Tech.
The one and done environment of the tourney will likely make the play a little conservative in the early going but look for the intensity of the match to pick up as the game progresses. A run and gun faster paced multi-goal contest will favor Clemson. The Tigers will prevail if they are able to apply pressure on the offensive side of the ball without leaving themselves vulnerable on the defensive side of the ball. A more controlled tempo will favor Virginia Tech.
Both teams will come into this one rested. Virginia Tech has the disadvantage of playing on the road but the fact that they come into this one after winning three ACC games in a row on the road during an eight-day span may make that a non-factor.
---
Notre Dame (#3 North – 4-3-0) vs. North Carolina (#2 South – 3-1-2) – This one will be played in Chapel Hill. It is worth noting that this is only Notre Dame's second road game of the year. Their only other away game this season was back on October 3 when they were defeated 2-1 by Louisville. Whether or not that has any impact on the game remains to be seen.
The Irish come into this one off a dominating 4-1 win over Louisville during which they effectively applied pressure from the get-go. Notre Dame's calling card in the past has been solid play on the defensive side of the ball. Their effectiveness in this one will hinge on the ability of backs Philip Quinton, Paddy Burns, Senan Farrelly, Townsend Meyer and Mohammad Abualnadi and netminder Keagan Mclaughlin to keep the Tar Heels in check. Forward Jack Lynn (6g, 0a) is the guy who will power the Irish attack. The key for the Irish is to play simple, avoid costly letdowns, and do the things well that have worked for them all year.
The Tar Heels come into this one off a 3-3 tie with Clemson, a 0-0 tie with NC State and a 2-0 win over Duke. North Carolina has scored a total of eight goals while only allowing four in six games to date. Three of the eight goals they scored and three of the goals they allowed came in their 3-3 tie on the road with Clemson.
UNC has played well but still look to be a team that is trying to find the right balance between applying pressure and getting numbers forward while remaining organized on the defensive side of the ball. The Tar Heel defense lead by backs graduate students Joe Pickering and Filippo Zattarin and seniors Matt Constant and Mark Salas and netminder Alec Smir will give the Tar Heels the edge in this one. In other words, solid play on the defensive side of the ball will enable North Carolina to push forward and comfortably and consistently apply pressure up top.
Both teams will seek to find space over the top that they can exploit. Notre Dame forward Jack Lynn looks to be the most explosive player on the pitch and could cause trouble for the Heels. Forward Giovanni Montesdeoca (1g, 1a) is among the players the Tar Heels will look to for offensive punch.
It will take two solid halves of play to prevail in this one. Nonetheless, whoever scores first and places their opponent in a situation where they have to chase the contest will have a huge advantage.
---
#4 Virginia (#4 North – 2-3-1) vs. Wake Forest (#1 South – #1 South – 7-1-0) – Virginia comes into this one off a disappointing and somewhat lackluster 1-0 loss to in-state rival Virginia Tech.
This is a good but young Virginia team that is in reload mode. Their two wins were over Louisville 2-1 and Syracuse 1-0. The fact that they are very competitive is reflected in the fact that their first four contests went into overtime.
The Cavaliers have traditionally been a thorn in the side of Wake Forest so an upset is not out of the question but it will require them to play their best game of the year. You can count on George Gelnovatch having a game plan that will give his team the best opportunity to win. The question is whether or not they can execute it.
Look for Virginia to focus on solid team defense and seek to find an opportunity in which they can effectively counter. Sophomore Philip Horton is among the keys to the Virginia attack up top. Seven different players have scored the seven goals that Virginia has played in the back of the net to date.
Wake Forest is a great possession-oriented team. They do a good job of knocking the ball around and finding a seam that they can exploit. The key every year for the Demon Deacons is finding the right balance between offensive pressure and stability on the defensive side of the ball. So far, they have done that done better than any other team in the fall season. Wake Forest has scored a total of eighteen goals and only allowed five in their eight games.
Junior Kyle Holcomb (5g, 1a), senior Machop Chol (3g, 2a) and sophomore Calvin Harris (4g, 2a) give the Demon Deacons a multi-dimensional offense up top. Isaiah Parente (1g, 4a) is among a very talented group of Wake Forest midfielders. Goalkeeper Andrew Pannenberg anchors a Deacon defense that has only allowed a total of five goals in eight contests.
---
Duke (#4 South – 2-5-0) vs. vs. Pittsburgh (#1 North – 5-0-0) – Dali Soccer Stadium in Raleigh is the venue for this contest.
Duke has two conference wins over NC State with losses to Clemson, Wake Forest and North Carolina twice. The Blue Devils have pretty much played everyone close but their inability to finish the opportunities that they have had in the final third has hampered them.
This is an emerging Duke squad with several young players in key roles. However, a limited schedule against a very competitive slate of conference foes is not conducive to wins when going through a learning curve.
Graduate Student midfielder Jack Doran (3g, 0a) and senior Daniel Wright (2g, 0a) have been Duke top two goal scorers. Senior back Matthias Frick and senior goalkeeper Will Pulisic anchor the defense.
Pitt has been the surprise team of the 2020 fall season with an attack that has scored three goals or more in each of their five contests.
Pitt's last two regular season contests with Notre Dame and Syracuse were cancelled which means the Panthers have not played a game since they defeated Louisville 4-1 back on October 23. That may result in a little untimely rust in their contest with Duke. Regardless, if they settle into a rhythm on the offensive side of the ball and avoid lapses in play on the defensive side of the ball they should prevail.
This is a team that has scored a total of seventeen goals in five games while also allowing eight. Sophomore midfielder Noel Valentin (5g, 1a), freshman forward Bertin Jacquesson (2g, 5a), sophomore midfielder Veljko Petkovic (3g, 3a) and senior forward Alexander Dexter (2g, 2a) are all capable finishers.
Pitt has made great strides under the guidance of Jay Vidovich and are a dangerous team to face but they remain a work in process. The fact that they are finding a way to win reflects the progress the program has made but they are a vulnerable team as reflected in their 3-2 win in overtime against Syracuse and their 3-2 win in overtime against Virginia in which they allowed the Cavaliers to come from two goals down to force extra time.
---
Pictures Pittsburgh and North Carolina Athletics