The ACC championship is on the line when Clemson and Pittsburgh face each other on Sunday, November 22 at WakeMed Soccer Park in Cary, North Carolina. Clemson has appeared in the championship match nine times while this will be Pitt's first appearance on the biggest stage in ACC play.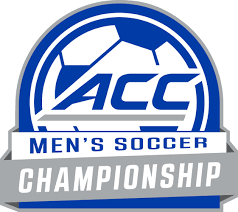 The Teams




Overall Record
7-2-1

7-0-0
Regular Season Finish In ACC

Third South Region
First North Region
Coach
Years At The Helm
Mike Noonan
11
Jay Vidovich
4
United Soccer Coaches Rank
2
1
Average Shots Per Game
14.1
11.9
Shots On Goal %
.454
.530
Total Goals Scored
19
22
Average Goals Per Game
1.9
3.14
Most Goals Scored In A Game
4
4
Total Goals Allowed
10
10
Most Goals Allowed In A Game
3
2
Corner Kicks Taken
51
37
Corner Kicks Allowed
47
35
Total Shutouts
3
0
Unbeaten Streak
2
7
Last Loss
Wake Forest 0-2
October 30
None this season
Strength
Pressure
Multi-Dimensional Attack
How They Beat You
Unity
Persistence
Where They Have The Edge
Experience
Momentum
Top Goal Scorer
Kimarni Smith
(8g, 3a)
Noel Valentin
(7g, 2a)
Number Players With 3 or More Goals
2
Kimarni Smith (8)
James Brighton (3)
2
Noel Valentin (7)
Velijko Petkovic (5)
Key Distributor
Grayson Barber
(2g, 6a)

Luis Felipe Fernandez-Salvador
(2g, 2a)

Alexander Dexter
(2g, 3a)

Jasper Loeffelsend
(0g, 6a)
Key Defender
Justin Malou
Arturo Ordonez
Goalkeeper
George Marks
(1.05 GAA)
22 Saves
Nico Campuzano
(1.39 GAA)
24 Saves
Don't Underestimate
Philip Mayaka
Midfielder
Jackson Walti
Midfielder
Freshman To Watch
Ben Erkens
Defender
Bertin Jacquesson
Forward
Wild Card – The X Factor
James Brighton
Forward
Jackson Walti
Midfielder
A Key Element
Mohamed Seye
Bryce Washington
The Glue
George Asensio
Alexander Dexter
Yellow Cards
Red Cards
18
1
9
0
Road Traveled
Virginia Tech 4-1
Virginia 2-1
Duke 2-1
Notre Dame 3-1
Summary –
Both teams have explosive multi-dimensional attacks with the ability to score in multiples when they get into a rhythm. This should produce an interesting and up-tempo contest from the get-go.
Look for both teams to apply pressure and seek to get the ball to the feet of their playmakers in the attacking third. Both teams have individuals with the quickness and touch on the ball to be very difficult to defend in one-on-one situations.
Solid marking and support, the avoidance of turnovers at any place on the pitch that create the opportunity for a quick counter into open space, and limiting the opportunities for restarts in the attacking third are keys on the defensive side of the ball.
The margin for error on the defensive side of the ball in the ACC is always slim which means that putting in a full shift is a critical success factor. Neither team wants to have to chase the contest but it is highly likely that there will be ebbs and flows and highly unlikely that this one will be decided by a single goal.
Both coaches will have their teams prepared and keenly aware of the explosive nature of their opponents but don't expect either to make any major strategic changes in how they approach the contest.
The battle for possession in the middle third will be fierce and although both have high performance offenses it will be the play on the defensive side of the ball that will be the deciding factor.
The Clemson defense is anchored by goalkeeper junior George Marks. Pitt's defense is anchored by graduate student Nico Campuzano. Both are very talented and experienced netminders. Their ability to make the big saves in the championship contest will no doubt have a huge impact on the outcome of the match.
Senior Justin Malou, juniors Charlie Asensio (0g, 1a) and John Martin, sophomore Oskar Agren and freshman Ben Erkens who earned his first career start in the semifinal contest with Virginia are among those who will play key roles in the back for Clemson.
Pitt's backline features graduate student Jasper Loeffelsend (0g, 6a), senior Bryce Washington (1g, 0a) and sophomores Arturo Ordonez (1g, 2a) and Raphael Crivello (0g, 2a).
Clemson forward Kimarni Smith (8g, 3a) and junior forward Grayson Barber (2g, 6a) have been the mainstays in the Tiger attack. Smith is as good as anyone in the country with the ball to his feet in the attacking third. He put on an offensive clinic in Clemson's 4-1 win over Virginia Tech in the quarterfinals and was also a force in the 2-1 semifinal win over Virginia. Barber (2g, 6a) is a playmaker on the offensive side of the ball for Clemson with the speed and touch on the ball to create the space needed to make good things happen. Junior Luis Felipe Fernandez-Salvador (2g, 2a) is among others who add an additional element in the attack in the midfield.
The Pitt attack is powered in large part by midfielders Valentin Noel (7g, 2a) and Veljiko Petkovic (5g, 3a). Both have the skill and the mentality needed to take charge of a contest. Noel scored and contributed an assist in Pitt's 2-1 quarterfinal win over Duke. Petkovic scored twice and Noel once in Pitt's 3-1 win over Notre Dame.
It will take a total team effort to win this one. Smith and Barber and Noel and Petkovic will no doubt play a key role on the offensive side of the ball for their respective teams but both these teams are loaded with talent. So, don't be surprised if someone else comes through in the clutch to provide their team with the big play or edge that they need to prevail. Clemson sophomores forwards James Brighton and Mohamed Seye and midfielder Philip Mayaka and Pittsburgh forwards freshman Bertin Jacquesson (2g, 5a) and senior Alexander Dexter (2g, 3a) are among the likely candidates to do that.
It has been a unique fall season with challenges never before encountered but both of these teams have kept their eyes on the prize. Fasten your seat belts for what should be a very good and attack oriented college soccer contest.
Picture from Pittsburgh Athletics