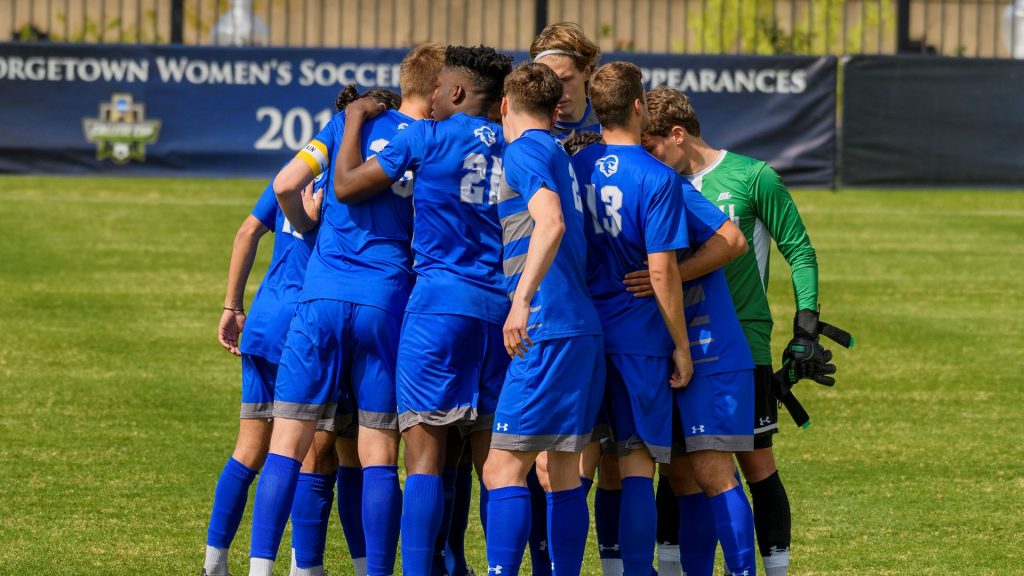 Teams Must Do Several Things Well In Order To Survive And Advance But They Have To Take It One Game At A Time And Each Opponent Presents A Unique Challenge.
American (4-1-3) vs. Clemson (13-3-)
American – Apply enough pressure on the Clemson defense anchored by backs senior Justin Malou, Charlie Arsenio, freshman Ben Erkens, and sophomore Oskar Agren to hamper the Tigers ability to get into a rhythm on the offensive side of the ball.
Clemson – Contain American junior forward David Coly (6g, 0a) who has scored in five straight contests and played a key role in the success the Eagles have had down the home stretch.
---
Fordham (7-0-2) vs. Marshall (9-2-2)
Fordham – Maintain the shape and organization needed on the defensive side of the ball to prevent Marshall from getting in behind the defense out of a quick counter.
Marshall – Thwart Fordham's ability to build their attack from the back and create a numbers advantage they can exploit.
---
Penn State (8-1-2) vs. Massachusetts (7-1-3)
Penn State – Hamper the rhythm of the Minutemen's attack by containing freshman forward Alec Hughes (7g, 2a) and midfield playmakers senior Yosuke Hanya (0g, 7a) and junior Ben Shepherd (2g, 7a). Hughes is the top goal scorer in the A-10 conference.
Massachusetts – Disrupt Penn State's ability to put together the combination of passes that often create a scoring opportunity for junior forward Danny Bloyou (7g, 2a). Bloyou is extremely effective when he has the ball to his feet in the attacking third. Freshman midfielder Peter Mangione (5g, 3a), Bloyou, and a now healthy sophomore Liam Butts (2g, 1a) can score in multiples when they get into a rhythm.
---
High Point (12-1-0) vs. Georgetown (8-1-2)
High Point – Hold their own in the middle third with a Georgetown midfield that includes sophomore Dante Polvara (7g, 2a), junior Sean Zawadzki and senior Paul Rothrock (2g, 3a) among others.
Georgetown – Contain sophomore forward MD Myers (14g, 4a) and junior midfielder Sebastian Chalbaud (9g, 4a) who power a Panther offense that has produced a total of 38 goals. HPU's only loss was when shutout 1-0 by Liberty.
---
Forest Wake (11-2-2) vs. Coastal Carolina (9-4-2)
Wake Forest – Play Wake Forest soccer. Come out on the front foot and utilize their touch on the ball and quickness to get the best of the possession and control the tempo from the get-go. Don't look past an always dangerous Coastal Carolina team despite the fact that they come into the match off of two losses.
Coastal Carolina – Maintain shape on the defensive side of the ball and not allow the Demon Deacons led by Kyle Holcomb to create gaps that they can exploit.
---
North Carolina (7-4-3) vs. Charlotte (6-3-1)
North Carolina – The Tar Heels have to put together the combinations of passes that will enable them to create and finish the scoring opportunities that come their way against a stout Charlotte backline consisting of defenders Patrick Hogan, Luke Johnson, Delasi Batse, Ethan Sawdon and Sean Suber.
Charlotte – Prevent the Tarheels from getting the best of the match by allowing them to attack into space on the flanks, open the field of play, and switch the point of attack to secure gaps in the middle that they can exploit. Contain the big play ability of forward Giovanni Montesdeoca (4g, 2a).
---
Omaha (7-2-1) vs Stanford (9-2-1)
Omaha – The Mavericks are coming off their first ever win in the NCAA Tourney. They must handle the pressure that Stanford led by forwards Zach Ryan (10g, 3a) and Gabe Segal (6g, 1a) will apply from the get-go. In order to do that they will have to be able to apply pressure of their own without leaving themselves vulnerable on the defensive side of the ball.
Stanford – The Cardinal must contain forward Hugo Kametani (9g, 1a) and midfielder Nil Ayats (5g, 4a). Both are very capable playmakers.
---
Indiana (9-1-1) vs. St. Francis Brooklyn (6-1-2)
Indiana – The Hoosiers have to create turnovers that they can exploit to break through a tenacious Terrier defense anchored by goalkeeper James Callum and backs seniors Vincente Gallardo, Ridwan Hannah, and Domenico Pugliese and junior Harald Sollund. Pressure with patience may be required.
Saint Francis Brooklyn – Victor Bezerra (11g, 3a) has consistently come up with big plays for IU. He is not the only threat but the Terriers must contain Bezerra in order to have a shot of pulling off the upset.
---
Marquette (8-2-1) vs. LMU (6-0-2)
Marquette – LMU has allowed a total of only two goals in the spring season. Defense has been their calling card. Marquette has to find a weakness in a solid LMU defense anchored in goal by junior Jacob Jackson and defenders Dylan Shockey, Nik Dauchot and Gerarda Lopez that they can exploit.
LMU [BB1] – Junior forward Lukas Sunesson (6g, 2a) and freshman forward Beto Soto (3g, 1a) have been the top goal scorers for a Marquette side that has done a good job this year of finding a way to win the close games. Containing Sunesson and Soto looks to be the key to keeping Marquette off the scoreboard.
---
Oregon State (9–4–0) vs. Virginia Tech (6-6-3)
Oregon State – The Beavers have to contain forwards Jacob Labovitz (7g, 1a) and Kristo Strickler (4g, 1a) who are at the heart of Virginia Tech's attack.
Virginia Tech – Objective number one for the Hokies has to be to find a way to contain forward Gloire Amanda (15g, 7a) who has the ability to take over a contest when he gets in gear.
---
Air Force (7-4-1) vs. Seton Hall (9-1-3)
Air Force – The Falcons are undefeated in their last six contests and upset Grand Canyon in the WAC Tournament final to secure an automatic berth into the NCAA Tournament. They have momentum but must hold their own in terms of possession in the run of play in order to maintain it.
Seton Hall – The Pirates have had a breakthrough season but are traveling in unchartered waters. The one thing they have to do is to continue to apply pressure and do the things that have worked well for them all year in order to prevail. They have to not stray away from doing what has gotten them where they are.
Washington (10–3–0) vs. Grand Canyon (8-1-0)
Washington – The Huskies must match Grand Canyons intensity. Containing freshman forward Maximilian Moeller (6g, 1a) and senior midfielder Justin Rasmussen (5g, 2a) will significantly hamper Grand Canyons big play ability.
Grand Canyon – Grand Canyon must be able to prevent a very talented and deep Washington midfield from dominating the middle third. The Huskies are capable of scoring in multiples when they get into a rhythm.
---
Maryland (4-4-2) vs. Missouri State (11-1-0)
Maryland – One essential key to halting a very efficient Missouri State team is playing rock solid defense out of set pieces.
Missouri State – Play through the pressure that Maryland will likely exert in particular during the first ten minutes of each half.
---
UCF (8-3-1) vs. James Madison (5-0-3)
UCF – The Knights have the difficult task of breaking the code on a very good JMU defense anchored in goal by T.J. Bush and a solid group of defenders that include Tom Judge, Prince Loney-Bailey and Melker Anshelm. The Dukes have only allowed a total of two goals.
James Madison – This one is going to be a battle of the midfields.  James Madison has their work cut out for them in terms of containing a potent UCF midfield led by Yoni Sorokin (4g, 1a) among others. Netminder Bush will have his hands full if UCF controls the run of play and is able to get the ball to the feet of forwards Gino Vivi (4g, 2a) and Barry Hattabiou (4g, 2a) on a consistent basis.
---
Monmouth (6-2-1) vs. Pittsburgh (13-3-0)
Monmouth – Monmouth must be able to exert the pressure needed on the offensive side of the ball to keep Pitt from playing on their front foot and pushing numbers forward on a consistent basis. The Hawks have played well on the defensive side of the ball but Pitt will place them under a lot of pressure. Monmouth will need a good balance between their attack and their organization defensively in order to contain a multi-dimensional Panther offense.
Pittsburgh – The key for the Panthers will be their ability to attack down the side, open the field of play, and exploit the seams that exist. Pitt is difficult to beat when they are able to build their attack out of the back and secure a numbers advantage.
---