The Thundering Herd Top Indiana 1-0 With senior Forward Jamil Roberts Contributing the Game-Winning Goal In Overtime.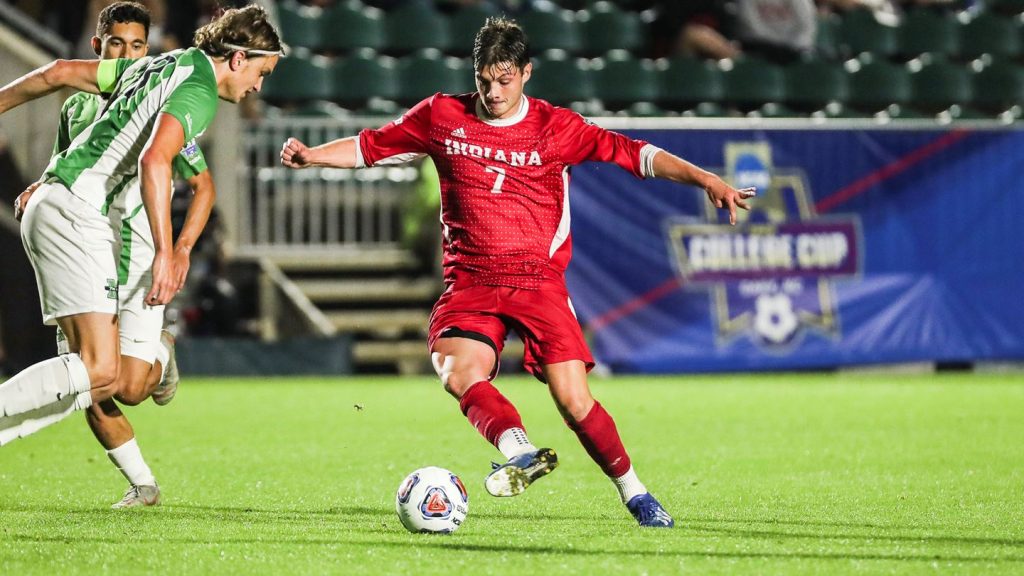 This one matched two programs that were trying to stake their claim to history in their own way.
Players come to Indiana to win national championships. The Hoosiers sought to secure their spot in Indiana history on Monday night alongside the eight other IU teams that had won a national championship.
Marshall sought to secure their spot in history by becoming the first team in program history to win a national championship. This group hoped to become the team that would pave the way for players in the future to come to Marshall believing they could win a national championship.
On Monday night when it was all said and done, Marshall was the team that cemented their place in history by topping perennial powerhouse Indiana 1-0 when senior forward Jamil Roberts came up with the biggest and most opportunistic goal of his career in the first overtime period to give the Herd the edge that they needed to win the 2020 national championship.
The game-winning sequence began when forward Milo Yosef pushed the ball from left to right into the box and centered a pass to All-American midfielder Victor Dias who got off a shot that was blocked. Dias alertly and decisively sent the rebound of his missed shot back toward the frame from about ten yards. Hoosier All-American netminder Roman Celentano was able to block but not secure Dias' shot. Roberts then did what finishers who have a nose for the goal do when he pounced on the loose ball and utilized his left foot to send it back into the net at close range. The goal brought the highly energized contingent of Marshall faithful who were on hand to their feet.
The game-winning sequence mirrored the persistent, opportunistic, and possession-oriented effort that has been the trademark of a very special never say never Marshall team.
The first half of the highly anticipated championship match was evenly played with ebbs and flows that included several good opportunities on the part of both teams but none that they were able to finish. Indiana forward Herbert Endeley had several runs forward off the dribble into space at speed out of a counter attack in which he created several dangerous opportunities.
Midfielder Vinicius Fernandes, Milo Yosef and Victor Dias powered Marshall's attack in the first half but were unable to break the code on a bend but don't break Indiana defense anchored in goal by Celentano and defenders Joey Maher, Nyk Sessock, AJ Palazzolo and Brett Bebej.
In the second half Marshall began to dominate possession and it seemed like it was just a matter of time before the ramped-up pressure that they were applying would take a toll on a Hoosier defense that was under constant siege.
Indiana had to carefully choose when and where they pushed forward. As the match progressed the Hoosiers increasingly had trouble getting the numbers forward that they needed to create combinations that might produce a seam that they could exploit. The effort was there but as the game progressed Hoosier All-American forward Victor Bezerra had few chances to come up with the big play in the attacking third that at times in the past had given IU the boost they needed.
Marshall's steadily increasing momentum and dominance in possession was reflected in a 17 to 8 advantage in shots for the evening and 8 to 1 advantage in shots of goal.
The thrill of victory and the agony of defeat.
It was a heartbreaking loss for a relatively young Indiana team that nonetheless had an outstanding season but one that didn't end the way they had hoped.
It was an exhilarating win for a Marshall team and the Thundering Herd faithful that never stopped believing that they could win it all and they did.
Marshall's march toward the national championship didn't occur overnight. Nonetheless, the transformation of the the program into a national contender was meteoric. It began back on January 17, 2017 when Chris Grassie was named the new head coach.
Grassie assumed the reins of a program that was 6-13-1 in 2016 with a 1-6-1 record in CUSA play. In Grassie's first year as the head coach in 2017 the Thundering Herd was 8-10-1 with a 4-6-0 record. Marshall progressed from a team that scored 16 goals and allowed 27 in 2016 to a team that scored 22 and allowed 23 in 2017.
In 2018 the Herd was 8-9-3 overall with a 3-3-2 mark in CUSA play. In 2018 they righted the ratio of goals vs goals allowed by scoring 32 and allowing only 28.
The groundwork was laid for a breakthrough season in 2019. In Grassie's third season in Huntington, Marshall rocketed upward with a 16-3-3 record and 5-1-1 mark in league play. The Herd won both the CUSA regular season and tournament titles, earned the programs first ever berth in the NCAA Tournament, was awarded the number 11 seed in the tourney, and secured the program's first ever win in the NCAA Tourney.
Midfielders Victor Dias, Pedro Dolabella, Max Schneider, Vinicius Fernandes and Joa Souza, forwards Jamil Roberts and Milo Yosef, and backs Jan-Erik Leinhos and Collin Mocyunas were among a solid core of returning players from the 2019 team. They were strengthened by the addition of several talented newcomers including transfers goalkeeper Oliver Semmle and back Nathan Dossantos who did a good job of filling the voids that existed due to departures.
Marshall improved as the 2020 season progressed. They developed a rhythm, style of play, and team identity that molded their individual talents into a team that believed they could hold their own against anyone. This was not a team looking for a good season. This was a group that wanted a great season.
The Herd secured back-to-back CUSA regular season titles with key wins over Kentucky and a very good Charlotte team to secure the CUSA's automatic berth in the NCAA Tournament. They subsequently advanced to the national championship past Fordham, number one seed Clemson in penalty kicks, number eight seed Georgetown 1-0 and North Carolina 1-0.
It was an improbable but very convincing run for a program that made its first ever appearance in the NCAA Tourney in 2019.
The curtain comes down on a 2020 season that was unlike any other in the history of college soccer. The championship contest could have gone either way but at the end of the evening Marshall patiently stuck with the game plan that had worked so well for them and secured their place in history.
---
Picture from Indiana Athletics