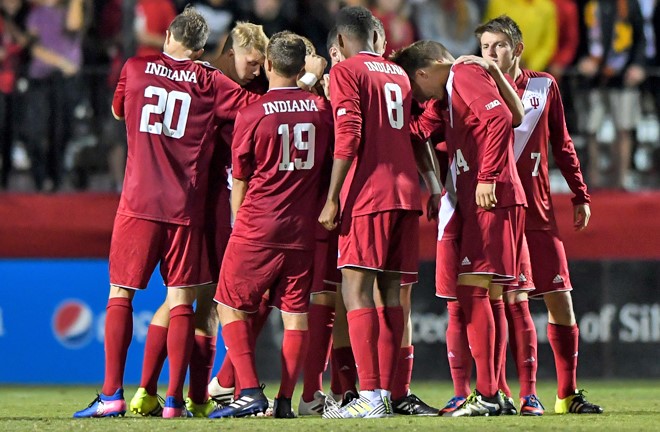 ---
Wake Forest (15-1-1) continues to take care of business. No team in the country has more wins over top ten teams than the Demon Deacons who have signature victories over Louisville, Clemson, and North Carolina. The Demon Deacons concluded regular season play with a 0-0 tie with Syracuse on Friday night. A prolific Wake Forest offense led by Jon Bakero (11g, 3a), Ema Twumasi (9g, 5a) and Luis Argudo (8g, 5a) among others has produced a total of fifty goals to date while a solid Deacon defense anchored by netminder Andreu Cases Mundet has held opponents to only ten goals. Wake Forest concluded ACC play with a 7-0-1 mark.
The Demon Deacons were the only team in the in the highly competitive Atlantic Coast Conference that was unbeaten in conference play. Whether they can sustain the same level of play in the one and done environment of post season action remains to be seen.
---
Indiana (13-0-3) – The Hoosiers have allowed a total of only three goals in sixteen contests this year. The Hoosier backline of Grant Lillard, Andrew Gutman, Rece Buckmaster and Timmy Mehl is second to none in the country. Freshman goalkeeper Trey Muse has been rock solid in goal. Todd Yeagley has done an excellent job of reengineering a balanced and multi-dimensional attack led by Mason Toye (9g, 1a), Andrew Gutman (5g, 2a), Cory Thomas (4g, 3a) and Griffin Dorsey (3g, 5a) that is enabling the Hoosiers to come up with the big play needed to prevail in the close contests that they tied rather than win in 2016. Last year the Hoosiers recorded seven ties including five in Big Ten play.
Indiana closes out regular season play Sunday with a huge on the road contest with Big Ten foe Michigan State.
---
Maryland (10-3-3) – The Terps entered the season with what was considered one of the most explosive offenses in the country. Eryk Williamson (6g, 5a), Jake Rozhansky (4g, 8a), Gordon Wild (5g, 2a) and Sebastian Elney (4g, 2a) are all big time finishers. The unanswered question was just how effective Maryland would be on the defensive side of the ball where they would have a lot of new faces on the pitch. Maryland's defense was exposed in a 5-4 win over Wisconsin. Look for Maryland's play on the defensive side of the ball to detemine how far they advance in post season play. However, there are also questions about the consistency of the Terp attack. Since the five goal performance over Wisconsin, the Maryland attack has been held in check with consecutive losses at home to Georgetown 1-0, Coastal Carolina 1-0 and VCU 3-0. It is also noteworthy that the Maryland offense was also held scoreless in matches earlier in the season when going up against ranked opponents Indiana and Michigan State. The Terps will seek to get back in the win column when they host Michigan on Sunday. Before the three straight losses, Maryland had been unbeaten in thirty consecutive regular season contests dating back to the 2015 season. A few weeks ago Maryland looked to be among the best teams in the country.
This is a talented Maryland team but right now they look to be in freefall seeking to regain their identity and perhaps confidence.
---
California (9-5-0) – The Golden Bears opened the season with losses in two of their first three contests including their home opener against West Virginia. They then rebounded to win six straight contests including Pac-12 wins on the road over UCLA and San Diego State. Their winning streak came to a halt with a loss to Stanford but they looked to be back on track with wins at home over Oregon State and Washington before lossing to Oregon State and Washington on the road.
The Golden Bears were absent from the NCAA Tourney field in 2015 and 2016. California looks to be a team on the bubble in 2017 with a current RPI of 41 and Pac-12 contests at home against San Diego State and UCLA and a match on the road with Stanford remaining on their 2017 dance card.
Drake Callender has performed well in goal but lapses on the defensive side of the ball have hurt the Golden Bears at times this year. Junior midfielder Shinya Kadono (6g, 0a) and senior forward Jose Carrera-Garcia (4g, 7a) are among those who will have to be productive on the offensive side of the ball in order for the Golden Bears to finish strong and reenter the NCAA Tournament field.
---
Washington (11-5-1) – The Huskies began the 2017 season with a top ranking in most preseason polls. They dropped in the polls after sustaining a 2-0 loss to Akron and a 2-1 loss to Mercer. The Huskies then bounced back with six straight wins including a key non-conference victory over Seattle 2-0 and Pac-12 wins over Oregon State and San Diego State to move upward in the rankings. The up and down Huskies then backslided losing to UCLA 1-0, tying Stanford 1-1, losing to California 2-1, and losing to Stanford 2-1 before topping California 3-0 and San Diego State 1-0.
Washington must now take to the road to face UCLA in Los Angeles and Oregon State in Corvallis to close out regular season play. Wins in both those contests would be a huge plus and momentum builder for a Washington team that currently has an RPI of 32.
---
VCU (9-4-0) – The Rams began the season with a 1-3-1 record that included losses to Oakland 3-2, Appalachian State 3-2 and Old Dominion 1-0. They looked to be a team on the ropes before a revitalized effort on the defensive side of the ball led by goalkeeper Mario Sequeira played a key role in eight wins in their next nine contests including on the road wins over UNCW, Atlantic 10 Conference preseason favorite Fordham and nationally ranked Maryland. During that span the Rams scored twenty-two goals and allowed a total of only two.
A red hot VCU team led on the offensive side of the ball by the trio of Rafael Santos (7g, 3a), Fran Amorosino (7g, 1a) and Luc Fatton (7g, 0a) closes out regular season play when they host Atlantic 10 Conference foe Rhode Island on Saturday. After beginning the season with a 4-0 loss to Albany and a 2-1 loss to Providence, Rhode Island got back on track to go undefeated in ten straight contests before their season took a downward turn with back-to-back losses in Atlantic 10 play to Massachusetts and Fordham.
---
Western Michigan (13-2-1) – The Broncos have been the surprise team of the 2017 season. They roared out to a 10-0-1 record and a high national ranking before sustaining back to back losses to Portland 4-1 and Michigan State 1-0. The Broncos faced the challenge of three consecutive losses and were at a tipping point of sorts when they hosted Akron in a key MAC contest on October 7. The Broncs did not fold instead they topped Akron 1-0 securing a win that got them back on track. Western Michigan then kept things going with on the road wins over NIU, Wisconsin-Green Bay, and West Virginia. The Broncos who have a program record thirteen wins to date will seek to up that total with regular season MAC contests remaining at home against SIUE and Bowling Green. Western Michigan needs a win in one of those two games to secure their first ever MAC regular season title.
Senior midfielder Brandon Bye (11g, 5a) has been a force on the offensive side of the ball for Western Michigan while redshirt senior goalkeeper Drew Shepherd has anchored a defense that has allowed a total of only eleven goals to date.
---
The Big Ten Conference regular season conference race is going to come down to the last day of the season with Indiana, Michigan State, and Maryland all tied for the number one spot. Indiana and Michigan State face each other. Maryland faces Michigan.
All three teams have identical 5-0-2 records in conference play.
---
The Big West Conferece used to be dominated by UC Santa Barbara. That is no longer the case. The winner of the conference tournament will represent the Big West in the NCAA Tournament. An at-large berth is unlikely due to the RPI of the teams in the Big West. CSUN which currently has an RPI of 71 has the highest RPI in the Big West Conference.
The top three finishers in the four team North and South Divisions of the conference will qualify for the Big West Conference Tournament. UC Davis, UC Santa Barbara, and Sacramento State will represent the North. CSUN and Cal State Fullerton have secured a spot in the Big West Tourney in the South Division with UC Irvine and UC Riverside still battling for the third spot.
Right now it looks like anyone can beat anyone on a given night in the Big West Conference. Fasten your seatbelts. The Big West Tournament looks to be wide open.
---
Creighton (8-5-2) – It is hard to get a handle on the Bluejays this year. They are hot and cold. After a slow start to the season they looked to be back on track when they reeled off wins over Tulsa, Villanova, and Omaha but they took a step backward with a 2-0 loss to a Seton Hall team that entered the match with four consecutive losses. Creighton followed that with a 2-2 tie with St. John's at home before bouncing back with a 6-1 win over Drake and a 4-1 win over Xavier in which the Bluejay offense came alive. However, they followed that with a 0-0 tie with Providence and a 4-3 loss to Marquette during which they allowed the Golden Eagles to jump out to a 4-0 lead. The Bluejay offense appears to be at its best when they have been able to build their attack from the back, utilize their speed to attack down the flank to open the field of play, and create scoring opportunities for Ricky Lopez-Espin among others.
The Bluejays are probably better than their record indicates but right now they are a team with their backs to the wall, no margin for error, and a disappointing 2-3-2 mark in Big East play. Creighton hosts DePaul on Saturday and then travels to tangle with Georgetown on Wednesday, November 1 to close out regular season play.
---
Akron (12-3-1) – The Zips have won six in a row after being topped 1-0 by Western Michigan in a key MAC contest. After a slow start to the season the Akron attack got back on track but this is a group that can also play a little D having allowed a total of only eight goals to date. A multi-dimensional Zip attack led by Nick Hinds (6g, 2a), Sam Gainford (5g, 4a) and Stuart Holthusen (5g, 3a) is explosive. Holthusen powered the Akron attack with a hat trick in their recent wood shedding win over West Virginia in Morgantown. Akron closes out regular season play with MAC contests at home next Wednesday against Marshall and NIU on Saturday.
Akron is playing well on both sides of the ball but both Marshall and NIU are capable of pulling off the upset if the Zips look past them to the upcoming MAC Tourney.
---
Massachusetts (11-2-3) – The Minutemen have flown under the radar for most of the season but are now getting a little well deserved love on the natioanl scene after a ten match unbeaten streak and a 5-0-1 record in Atlantic 10 play. The Minutemen travel to face George Mason on Saturday before hosting a very good Fordham team next Wednesday. Freshman Midfielder Davis Smith (8g, 4a) and forwards Alex Desantis (6g, 4a) and Jack Fulton (5g, 2a) have been key ingredients in a Massachusetts attack that has produced a total of thirty-two goals to date.
This is a good Minutemen team but they now have a big target on their chests and their margin for error remains small in the Atlantic 10 Conference which has several very capable teams this year.
---
Pittsburgh (8-9-0) – This was a breakthrough season for the Panthers under the direction of veteran second-year head coach Jay Vidovich. The Panthers topped Syracuse on September 29 to secure the program's first win in Atlantic Coast Conference play and to establish that they were no longer a team to be taken for granted. Wins over West Virginia, Columbia, Penn State, and ACC foe Notre Dame in South Bend bode well for the direction and continued success of the program at Pittsburgh.
The Panthers have a ways to go to challenge for the ACC title and standing on the national scene but no matter how you slice it they took a huge step forward this year with several accomplishments that they will no doubt build upon.
---
Air Force (12-1-3) – The Falcons are for real with a 6-0-2 mark in Western Athletic Conference play. Air Force is unbeaten in their last twelve contests. This group has a balanced attack with forward Austin Dewing (6g, 7a), midfielder Tucker Bone (5g, 6a), Klint Parker (4g, 3a) and John Sims (4g, 1a) all capable finishers. The Air Force defense that is anchored by senior iron man midfielder Trey Pujats and senior goalkeeper John Wendt among others has been rock solid all year allowing a total of only eight goals to date.
The Falcons travel to face CSU Bakersfield on Sunday and UMKC the following Saturday to close out regular season play in two must win WAC contests. Air Force and Seattle, who tied 2-2 when the two teams faced off during regular season play, look to be the teams to beat right now in the WAC. However UNLV is a team that is always capable of getting hot and running the table at the WAC Tourney when it gets here.
The task right now for Air Force is to take it one game at a time and not look past anyone. The Falcons showed that they were a competitie team last year but this is a program that is currently flying in unchartered territory.
---
FIU (11-0-3) – No first year head coach is having a better season than FIU's Kevin Nylen. The Panthers secured a big win on Wednesday night when they topped Old Dominion 3-1 in a key CUSA contest to improve to 5-0-1 in league play. FIU has another big hurdle coming up on Sunday when they travel to face CUSA foe Kentucky to close out regular season play.
FIU has an explosive attack lead by forward Santiago Patino who has found the back of the net a total of fourteen times. Midfielders Paul Marie and Alessandro Campoy have add balance to the offense with six and seven goals respectively.
In their last eight contests the Panthers have outscored opponents thirty-one to eight.
---
Denver (8-6-1) – Despite not meeting pre-season expectations to date the Pioneers remain the team to beat in the Summit League with a 3-0-0 mark in conference play. The Summit League contest of the year so far will take place Saturday (October 28) when Denver hosts an Omaha team that is 8-4-2 with a 1-0-2 mark in league play.
Defense has played a key role in Denver's play to date against Summit League competition and will likely be a key factor in the outcome of the claish between Denver and Omaha. The Pioneers will close out Summit League play the following Saturday (November 4) with another key conference game when they travel to tangle with Western Illinois.
Denver, Eastern Illiniois, Fort Wayne, Oral Roberts, Omama and Western Illinois are members of the Summit League.
---
Duke (12-3-2) – Count the Blue Devils who upset Virginia 1-0 Friday night among the teams that are having breakthrough seasons. John Kerr pretty much summed things up when he stated, "We've been searching for this kind of consistency for a while." The win over the Cavaliers upped Duke's record in ACC play to 4-3-1.
Duke is currently ranked as the number fourteen team in the nation in the most recent College Soccer News Poll.
Senior midfielder Brian White (9g, 2a), senior center back Markus Fjortoft, and freshman goalkeeper Will Pulisic have been among the difference makers for the Blue Devils.
---
UCLA (7-6-1) – The Bruins have pretty much been absent from the national rankings all season looking good at some times and not so good at others. With contests remaining at home on Sunday against Washington followed by games on the road against Stanford, California, and San Diego State, the Bruins look to be on the bubble and appear to need to finish strong when it comes to earning a berth in the 2017 NCAA Tourney.
The Bruins topped Washington 1-0 when they faced them earlier in the season in Seattle, but lost to Stanford 1-0 at home and Californina 2-0 at home. UCLA topped San Diego State 2-1 in overtime at home. UCLA has now won four consecutive Pac-12 contests which is a plus including a 5-0 win over Oregon State on Thursday night.
The Bruins have momentum but their lone signature win to date is the win over Washington. No matter how you spin it, it is gut check time for UCLA.
On the plus side the Bruins have a 4-2-0 mark in Pac-12 play (two wins over Oregon State, a win over Washington, and a win over San Diego State) and solid RPI of 29 which reflects in part the difficulty of their dance card which included non-conference losses on the road to Maryland, Georgetown, and Clemson.
---
Rider (11-3-1) – The Broncs are 8-1-1 in their last ten matches with a 6-1-1 mark in MAAC play. They stumbled with a 2-1 loss to Siena and a 1-1 tie with Canisius College in MAAC play before rebounding with a 2-1 win over Iona last Wednesday. Rider closes out regular season play with an MAAC contest at home on Saturday with Marist followed by what should be a very competitive contest with Fairfield on the road next Wednesday.
Forwards Elliott Otmani (8g, 1a) and Pablo Decastro (7g, 1a) have been key goal scorers. Senior defender Jose Aguinaga (3g, 9a) and sophomore forward Clement Bourrett (1g, 8a) have served up plenty of helpers.
---
Stetson (7-6-2) – The Hatters under the direction of first year head coach Kyle Gookins closed out regular season play in the Atlantic Sun Conference with a 4-0-2 record that included ties with FGCU 1-1 and Jacksonille 0-0 to claim the ASUN regular season title and a first round bye in the conference tournament.
Freshman midfielder Deniz Dogan has been a difference maker for the Hatters with seven goals including four game-winners to date.
---
NJIT (8-6-3) and FGCU (6-5-3) will tangle on Saturday night in Fort Myers, Florida with the number two seed in the ASUN Conference on the line. Both sides are 3-1-1 in conference play. The top two seeds earn a bye in the ASUN Tournament. If the contest ends in a tie, NJIT will earn the number two seed.
NJIT is powered on the offensive side of the ball by senior forward Mamadou Guirassy who is responsible for sixteen of the Highlanders' twenty-six goals to date.
Since becoming eligible to participate in the ASUN Tourney, FGCU has never been seeded lower than number two. NJIT will seek to change that. The FGCU attack in 2017 has netted a total of only twenty-four goals to date which is much less than the 2016 team that lead the country with a total of sixty-two goals.
---
The West Coast Conference race and the league's automatic berth into the NCAA Tourney is still up for grabs at this point. Portland looks to be the team to beat in the WCC with a 3-0-1 mark in conference play but San Diego, Pacific, and San Francisco are still in the hunt.
The Pilots have a 3-1 win over Pacific and a 1-1 tie with San Diego. In terms of the current RPI for games through October 22 – San Diego is 24, Portland is 25, Pacific is 30, and San Francisco is 112. Portland hosts San Francisco on Sunday followed by matches with Gonzaga and Saint Mary's the following two Saturdays.
Stay tuned it could be another photo finish.
---