Remember the name Francis Atuahene, the Ghanaian speedster was drafted by FC Dallas fourth overall in the recent MLS draft held in Philadelphia. His path to draft day was all but smooth, and his emotional draft day speech is an indication of how far he has come. Born in the rural town of Techiman in Ghana's Brong Ahafo region, a product of the now famous Right To Dream Academy, Atuahene is an embodiment of struggle, perseverance and the will to succeed.
After a stellar college career at Michigan that spaned a period of three years, Atuahene went into the 2018 MLS draft as one of the the very best college players in the country. A combination of skill and strength and a blistering pace meant he terrorized every college defense he faced. After his junior season in Ann Abor the time had come for the Michigan star to turn his sights to the pros.
With the MLS season underway, Atuahene looks to settle into the professional game and continue to develop at FC Dallas under head coach Oscar Pareja. I was able to catch up with the former Wolverine and discuss how he is settling into life as a professional soccer player and what the experience has been like so far.
---
Q: What was it like growing up in Techiman?
FA: Growing up in Techiman was really nice, it is not like the big city Accra, it is more of a small farming town but it is home and I love it a lot. It was a lot of struggle growing up but it taught me to be appreciative of every opportunity and I am grateful for the little things I learned there that will stay with me forever. I can't wait to go back soon. Its has been awhile since I've been back but I am definitely looking forward to being back there.
---
Q: How important was it for you to have that student athlete experience?
FA: Education has always been really important to me, my grandma whom I grew up with always stressed the importance of having an education. Coming from Techiman not many people have the opportunity to get a college education, especially at a wonderful school like Michigan. Getting my degree has always been a goal of mine. I will start taking online classes in the summer to work towards the completion of my degree and achieve that goal.
---
Q: How important has Chaka Daley been in your development both on and off the field?
FA: That's my main man. For me to be able to be at my absolute best on the field, I need to have a strong relationship with my coach, where he trust and believes in me completely and that was what I had with him. From the very first day I stepped foot in Michigan he made me feel right at home and was always there when I needed him. He has become my mentor. We actually spoke a few days ago about soccer and life. I am glad to have formed such a special relationship with him, one I cherish very much.
---
Q: What has been the biggest adjustment on or off the field, as a pro compared to college?
FA: I would say just like every level I have moved up to, it has to be the speed of play and the quality of players. Every player at this level is really good, especially at a club like FC Dallas where every position has two or three players all playing at a high level. There are no days off whether it's practice or not. Also what you do off the field is as important, if not more important, when it comes to how you take care of your body, whether it's how you sleep or what you eat, it plays a big role in your performance. So I think being aware of little things like that has been an adjustment but I am taking it all in stride and enjoying the process.
---
Q: How helpful has it been having fellow Right to Dreamer Ema Twumasi with you at Dallas?
FA: It's been great! We've actually known each other since we were eight years old. He's from Wenchi which is about half an hour from Techiman where I grew up. He was one of the best players from his town and I was one of the best players from my town, so we had heard about each other, then of course we both went to play at Right to Dream as well. Funny thing is that when we came to the United States our boarding school was like twenty-five minutes apart. So we've been around each other for a long time. He has definitely made the transition a lot easier and now we live together as well so it's even better. He is such a funny guy.
---
Q: Do you see yourself wearing the Ghana colors and playing for the Black Stars in the future?
FA: That is the goal, growing up, especially as a Ghanaian you dream of the moment when you can represent your country and fight to defend the nation. I would love to play with all those guys from Right to Dream that play with the national team like David Accam and Thomas . Agyepong who I played with among others. But first I have to establish myself here in Dallas and prove myself on the field but I am confident I will make it into the Black Stars team. It's just a matter of time, as long as I continue to work hard and remain focused anything is possible.
---
Q: Have you had to go through any rookie rituals yet?
FA: Oh man! I can't even talk about it, shaved head and all that, but I have loved every bit of it so far, being part of this amazing team and a great group of guys from the new guys all the way through to the senior players.
---
Q: What player on FC Dallas has helped you the most in terms of giving you advice and helping you settle into the team?
FA: All the guys have been great in welcoming us into the club and helping us feel at home, guys like Tesho, Maxi, Diaz, Roland Lamah, they've all been great.
---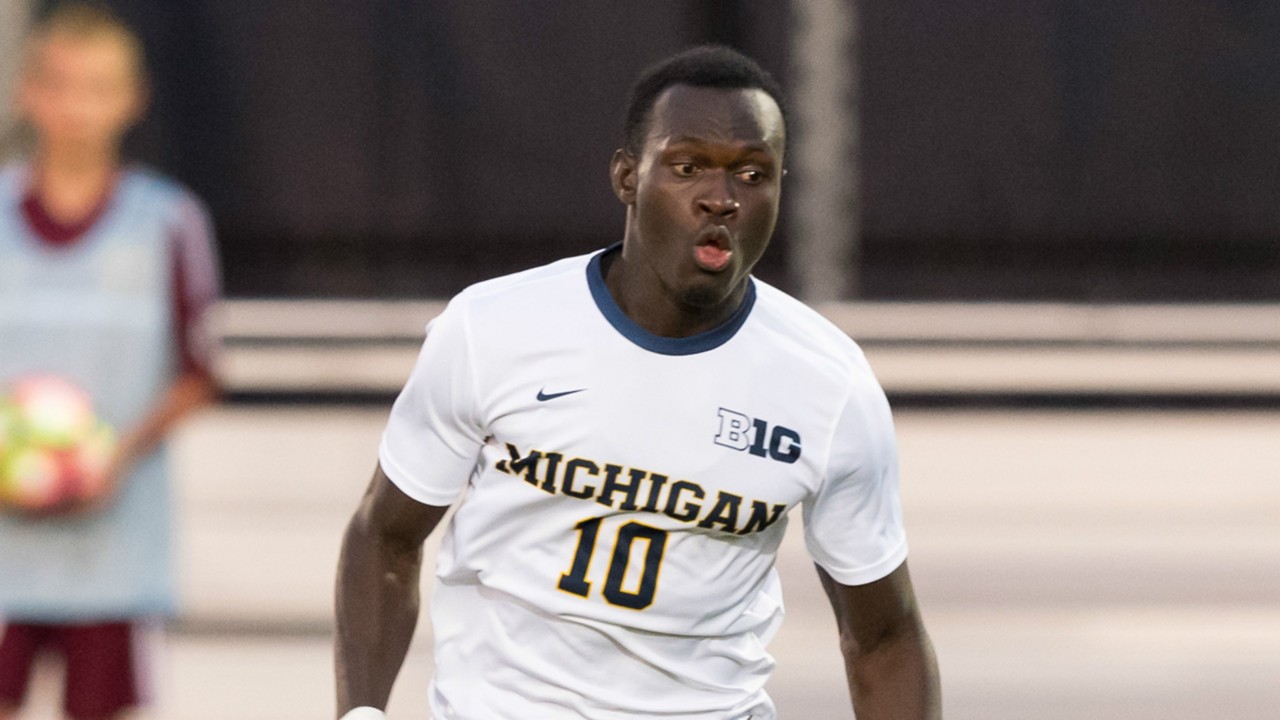 Atuahene is just starting, and after a difficult start to his professional career with an arm injury picked up during preseason, he is raring to go, with the same unstoppable mentality that got him this far. His primary target for the season is to continue to learn and improve. He is ready to work hard and fight for his place, something that has become a part of who he is at this point.
Expect Atuahene to be in the Rookie of the Year conversation come the end of the season, with dazzling displays that FC Dallas fans will soon become privy to as the season takes shape.
---
Dela Agbotse is a contributing writer for College Soccer News. He can be reached at dela.agbotse11@gmail.com