Jamie Clark has a keen eye for talent. A former All American himself at Stanford, The University of Washington head coach has been at the helm at the Huskies for a number of years now and he has already been responsible for identifying MLS players such as Cristian Roldan and Handwalla Bwana among others. Now he seems to have repeated the trick with the emergence last season of Pac 12 Freshman of the Year Blake Bodily.
The combination of Bodily's natural talent and the elite coaching on offer at University of Washington, may result in the development of yet another young star full of skill and flair.
Bodily is a left footed, balanced attacking player with the ability to playmake and the agility and technique to beat a man in a one on one situation. The young forward has also already proven that he has the capacity to not only score goals, but to score a wide variety of goals against varied opposition whether in college soccer or in the USL where he spent time playing with the Portland Timbers 2.
He displayed a ruthless edge to his finishing last year as a freshman, however Coach Clark believes Bodily can increase his productivity this fall by getting into positions to score the "easy" goals. When one on one facing the goalkeeper, Bodily is rarely phased and is capable of finding either corner. When the defensive line stands off and gives him too much space then Bodily is confident enough in his own ability to either find his teammates with defense splitting passes or have a strike at goal.
There are still weaknesses to his all round game but a greater sense of tactical knowledge and positioning will come with experience. Bodily's decision making, while already at a high level should continue to develop with continued exposure to first team soccer with the Portland Timbers 2 with whom he played twelve USL games in 2017, starting nine of those. He no doubt as also benefited from being around the Timbers first team.
Ability to Playmake
In college soccer the smaller playmaker tends to be undervalued. Former diminutive college soccer stars such as Brian Iloski and Chris Mueller lend great value to their various college sides irrespective of their lack of size, they very much made up for it with their balance and versatility as well as a knowledge of the game and that made them a good fit for many tactical systems, which allowed them to transition into the Pro game and that can be said for Blake Bodily.
Bodily is very much a modern play maker in that he is comfortable operating in wide areas or even deeper areas of the field as required and is able to get the best out of his teammates in the process. While under presssure, Bodily is capable of turning and running at speed between the gaps in the oppositions defense. His pace and explosiveness over short distances make it very difficult for teams to defend against him in this situation.
Dribbling and Movement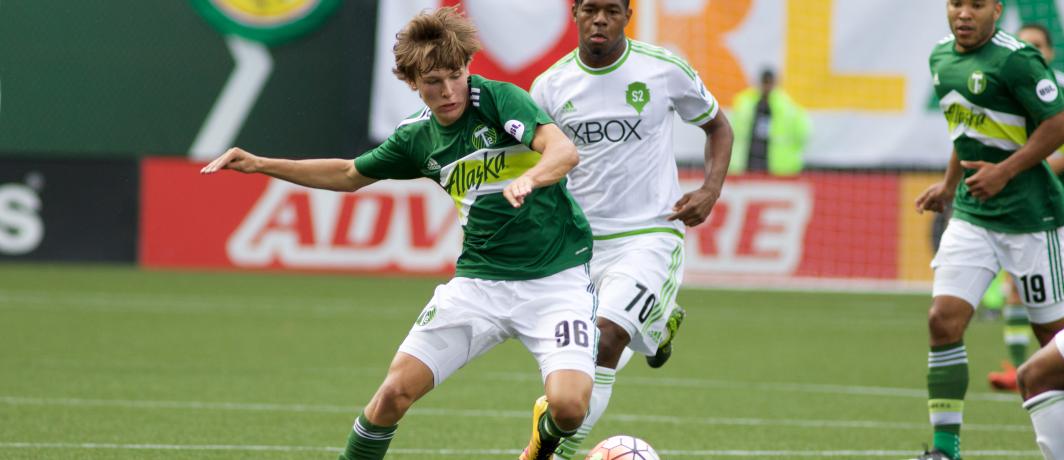 With his slight frame and deceptive pace Bodily is a dangerous dribbler of the ball with the ability to identify the weak side of an opponent and to quickly attack that weakness. He still has a tendency to push the ball past a defender on the outside before using his physical capacity to burst past, but during his freshman season at the University of Washington and in his appearances for the Timbers 2 side he has shown the versatility to utilize a number of instinctive skills and tricks to beat an opponent. .
Awareness and Vision
It often takes a young forward player time to develop a level of awareness that allows him to see and connect with team mates, instead of being blinkered in his pursuit of goals. Bodily already seems to have an advanced sense of when to play the ball out to a team mate and when to drive towards goal himself. Instead of turning and heading straight towards goal he has the awareness to identify the space in an advanced area. The ability to see and utilise space in the attacking phase combined with the capacity to hold the ball up or to turn and run at defenders makes Bodily an extremely difficult proposition for defending teams.
Conclusion
Jamie Clark may have unearthed another diamond in the Pacific Northwest. Entering his sophomore season in the fall, the reigning PAC-12 Freshman of the Year will have to shoulder more responsibility for the Huskies, a task that Bodily appears more than ready to do. With a combination of tactical and technical attributes, the Husky forward is well on his way to becoming one of the best college players in 2018. An MLS or European contract, is not out of the question should he decide to transition into the Pro game in 2019. While direct comparisons to other players are neither useful or appropriate, there are definite signs that Bodily has the potential to follow in the footsteps of his predecessors at Washington.
---
---
Dela Agbotse is a contributing writer for College Soccer News. He can be reached at dela.agbotse11@gmail.com